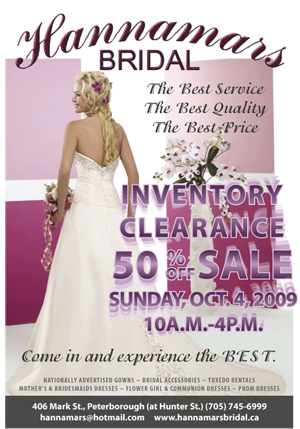 50% OFF EVERYTHING IN THE STORE – 1 DAY ONLY
HANNAMARS BRIDAL
Date: October 4th
Time: 10am – 4pm
Come early for best selection. Sale includes everything in-stock
(Wedding Gowns–Bridesmaid dresses- jewellery -shoes- etc)
Visit: www.hannamarsbridal.ca
Brides you can NOT miss this sale! Imagine 50% off everything in the store!!! But I would take their advice to come early, I'm assuming this sale is going to be a big hit.
After the sale post a comment on this blog so we can hear about your experience and some of the great deals.
50% OFF EVERYTHING – Hannamars Bridal
Did you enjoy this article?

Print This